sold out
sale Item
only 2 left!
in your basket
How to get your food:
Grateful Bread Bakery & Cafe
7001 35th Ave NE, Seattle, WA 98115
Tuesday, September 26th
7:00 PM - 8:00 PM
We're sorry - there is not enough of this item remaining to add to your cart. We're sorry something went wrong. Please try again. We can't add a negative quantity to the basket. Use the decrement button to remove items. The quantity must be at least 1.
Description
Practices
Pickup details
Description
SUMMER SALE 10% OFF --- Pork Jowl is rich fatty cut from the chin of the pig, Typically it is cured and smoked, but can be deep fried in small chunks for a fatty, dense, and delicious treat. Jowl meat has a lot of muscle and collagen, so it works well as a braised dish, and can be finished in a frying pan to give the outside a nice crispy exterior. Best of all, you can eat ours with no concern about what might be stored in the fat, Our herd is fed a certified non-GMO ration without corn or soy. No antibiotics, grow factors, or other chemicals are ever added to their feed or injected into their bodies.
Practices
Certifications: USDA Inspected Raw Meat
Practices: Dryland Grazed, Rotationally Grazed, Grass Fed
Pickup details
You will need to meet Island Mountain Farm at Grateful Bread Bakery & Cafe on Tuesday, September 26th between 7:00 PM & 8:00 PM.
Here is further information on this pick up location:
Grateful Bread Bakery & Cafe
7001 35th Ave NE, Seattle, WA 98115

Look for a 1991 Blue Volvo 240 Sedan with a bike rack on the roof. Please consider stopping into the bakery and purchasing some of their wonderful bread and pastries. I'll probably have a cup of their delicious tea or cocoa in my hand.
You are responsible for showing up during the above time window. If you have any questions, send us a mail @ hello@barn2door.com.
Meet your farmer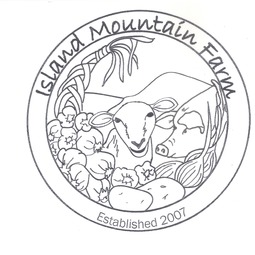 Island Mountain Farm
Island Mountain Farm is located in the Okanogan Highlands. We raise Katahdin lamb and Heritage pigs. Katahdin Sheep are a breed created for superior meat quality. Our lamb is raised and finished naturally on dryland pasture. We protect our animals with livestock guardian dogs, fences and non-lethal devices. We produce high quality meat in a responsible way, always honoring our responsibility to leave our land and environment in better condition than we received it. "Raising Quality Meat for You is Our Passion"