sold out
only 4 left!
in your basket
How to get your food:
Grateful Bread Bakery & Cafe
7001 35th Ave NE, Seattle, WA 98115
Saturday, March 31st
5:00 PM - 6:00 PM
We're sorry - there is not enough of this item remaining to add to your cart. We're sorry something went wrong. Please try again. We can't add a negative quantity to the basket. Use the decrement button to remove items. The quantity must be at least 1.
Description
Practices
Pickup details
Description
Cook this cut slow and low for a tender, delicious meal. Great baked in the oven, slow cooker, pressure cooker, or smoker with your favorite seasonings. Each package comes with roasts around 3 lbs to 5 lbs each. Our pork is a cross of three Heritage breeds, Berkshire, Red Wattle, and Mulefoot. Each breed makes an important contribution to the herd and to the quality of our pork. Our herd is raised outdoors, on pasture during the spring, summer, and fall. In protected paddocks during the winter. They are fed non-GMO ration without corn or soy. No antibiotics or grow factors are ever added to their feed.
Practices
Certifications: USDA Inspected Raw Meat
Practices: Dryland Grazed, Rotationally Grazed, Grass Finished, Grass Fed
Pickup details
You will need to meet Island Mountain Farm at Grateful Bread Bakery & Cafe on Saturday, March 31st between 5:00 PM & 6:00 PM.
Here is further information on this pick up location:
Grateful Bread Bakery & Cafe
7001 35th Ave NE, Seattle, WA 98115

Look for a white Dodge Ram 2500 with an ice chest in the back. Please consider stopping into the bakery and purchasing some of their wonderful bread and pastries. I'll probably have a cup of their delicious tea or cocoa in my hand.
You are responsible for showing up during the above time window. If you have any questions, send us a mail @ hello@barn2door.com.
Meet your farmer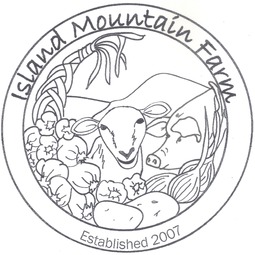 Island Mountain Farm
Island Mountain Farm is located in the Okanogan Highlands. We raise Katahdin lamb and Heritage pigs. Katahdin Sheep are a breed created for superior meat quality. Our lamb is raised and finished naturally on dryland pasture. We protect our animals with livestock guardian dogs, fences and non-lethal devices. We produce high quality meat in a responsible way, always honoring our responsibility to leave our land and environment in better condition than we received it. "Raising Quality Meat for You is Our Passion"